Öhlins Shock Universal Triumph Twin
in Öhlins
Öhlins Shock Universal Triumph Twin
in Öhlins
Part #:HSP001
Project Difficulty:1/5
Make: Triumph
Country of Manufacture:
Model: Bonneville, Scrambler, Thruxton
Year: *Any
Remarks: Shocks come with "black" springs and are delivered as pairs | S36PL | 381 +10/-0mm
Position: Rear
36mm piston, length is 381 +10/-0 mm, supplied in pairs.
authorized distributor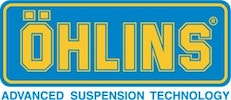 Guaranteed Fit.
Our products are curated by our experts.
We're Happy to Help!
Call our experts: 937-291-1735
Easy Returns.
We are ready to assist you promptly.
Öhlins Single tube design 36mm piston monotube high pressure gas type of shock absorber with external "piggy back" reservoir and adjustabale length.
Shock length is 381 +10/-0 mm.
Shocks are supplied in pairs.