Motorcycle Brake Line Kits

Spiegler's Stainless Steel Braided Brake Lines, Quality You Can Count on.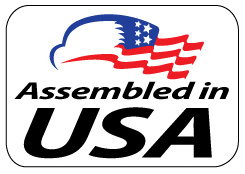 Manufactured in accordance with the requirements of Federal Motor Vehicle Safety Standard No. 106 for Street Use. All Spiegler brake line kits are made in our Dayton, OH facility.
NEW: Premium Brake Line Kits, front (alt. 2 line routing) and rear brake lines as well as all banjo bolts are included in the brake line kit.
Patented fitting torsion system eliminates line twist. Check out this video!
We have complete kits for motorcycles or as individual lines for custom applications.
Steel braided brake lines are available with clear, black, vintage black, red, translucent red, blue, white, orange, green, yellow, pink, smoke or translucent blue covering.*
Fittings are available in silver, gold, chrome, blue, black, purple, red, green or titanium*.
Every kit is made as it is ordered, typically same or next day.
Lifetime Warranty (Guaranteed for the life of original owner and the original motorcycle)
Inhouse testing of brake lines
A generally unrecognized manufacturer's recommendation is that all original rubber hydraulic hoses should be changed every four years to avoid failure. Spiegler brake lines are maintenance free and will provide reliable service for the life of your motorcycle.
All of our components are either made in the USA or made in Europe from companies who are using certified materials.
Attention: If it does not say in the Product Specification 'ABS', than the brake line kit is not for an ABS model!
All of our brake line kits are made to US-model specifications. If you have a non US model bike it is your responsibility to insure fitment.
*The color of the line material and fittings can vary due to different lighting conditions and anodized batches