Spiegler Custom Type 950 Brake Line
Please measure twice and order once, because there are no returns accepted on custom brake lines. Colors are not guarenteed to match the colors on your bike. For example, our anodized gold may not be an exact match for your gold Brembo calipers. When ordering please indicate exact vehicle specifications (type, year of construction, manufacturer)
Measure lines with suspension unweighted, along the planned routing for the lines, with a lightweight flexible wire to account for suspension travel. Plan your routing so that the lines will not get pinched or chafe.
Chose from the fittings below and fill out the chart. For multiple lines just change the Number of Lines . Also, don't forget your email and address information otherwise we won't be able to get back with you.
If you would like to add grommets or a tab locator to your custom brake line, please make a note of the item number (found at the bottom of this page) in the 'comment' field of the line you would like to add the grommet or tab locator to. Supply also a length dimension from fitting F1 (or other fitting) so that we know where to install the grommet/tab locator. The grommets/tab locator have a tight fit on the brake line, but can be moved when moistening the brake line.
Please allow 24 hours to get back with you for a quote via email. Thank you!
Be aware that some fittings are only available in stainless steel, there is no color option for those! See details in enlarged fitting images!
For your fittings, click below on the fitting types below to enlarge the picture.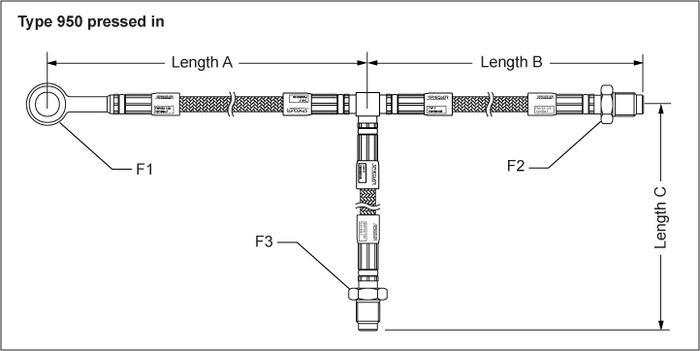 Fitting Types
10mm / 3/8" - Banjo Fittings
7/16" - Banjo Fittings
12mm - Banjo Fittings
8mm - Banjo Fittings
6MM - Banjo Fittings
External threaded fittings M10x1.00
External threaded fittings M10x1.25
External threaded fittings 3/8"-24UNF
External threaded fittings M12x1.00
External threaded fittings 7/16"-20UNF
External threaded pipe fittings
Internal threaded fittings M10x1.00
Internal threaded fittings M10x1.25
Internal threaded fittings 3/8"-24UNF
Junctions
Grommets