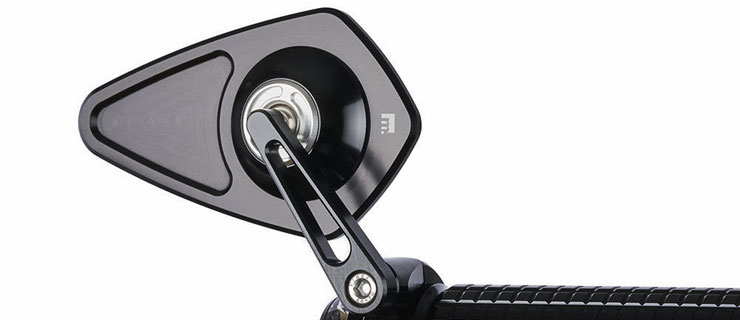 m.view mirrors from motogadget, the world's first glass-less mirrors for motorcycles
By Matthias Schaub
Nov 26, 2018
Berlin, Germany
Motogadget introduces the world's first and exclusive glassless motorcycle mirror series - the m.view. The special feature of this mirror is the patented mirror surface, which is machined directly into the metal body. The aluminum body is the mirror surface!
A weightless design without an edge and frame is now possible. The mirror body, in and of itself, is the very thin and lightweight mirror. 100% of the surface is mirror - achieving maximum use of the design. Shattered glass or fallen out glass are a thing of the past.
How is it made?
An elaborate fly-cutting process, using diamond cutting tools on ultra-precision CNC machines, machines the convex mirror surface directly out of solid aluminum.
In order to protect this delicate surface motogadget applies a special plasma coating process. In a vacuum, the mirror surface receives a plasma coating which makes it absolutely resistant against scratches, corrosion and oxidation.
The mirror and mirror arms are CNC machined from billet aluminum. Deep black anodizing gives them a distinguished appearance.
All components such as bolts and ball-joints are made from stainless steel. This makes for precise for precise and stable adjustments of the mirrors.
Motogadget will offer 5 bar-end mirrors and 5 stem mirrors with 4 different mirror shapes.
About motogadget
Cutting edge instruments – this is our obsession, our passion, our obligation as a leading manufacturer of exceptional accessories for motorcycles. The distinctive functionality and reputation of our products is achieved through excellent product design, quality materials, manufacturing quality and reliability.
All motogadget products are designed, developed and manufactured in Berlin, Germany. motogadget is widely recognized for its high degree of technical innovation, be it through its extreme miniaturization of instruments and accessories or break-through products such as the m.unit blue, m.button, motoscope mini and the m.blaze blinker series.
USA distribution through Spiegler Performance Parts
www.spieglerusa.com