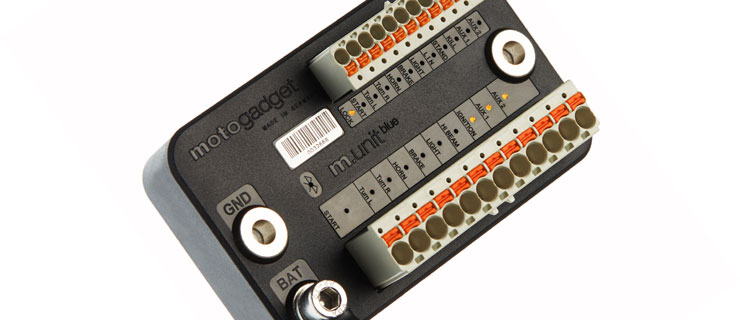 m.unit Blue
By web admin
Apr 2, 2018
The geniuses from Motogadget are at it again introducing their new m.unit blue with modern Bluetooth® LE functionality. Acting as the heart of the entire on-board electrical system, the m.unit blue is the digital control unit for your bike. Operated by push buttons or conventional handlebar switches, it controls all necessary components on the vehicle and is a complete replacement for all OEM fuses. The new m.unit blue is an improved version of the tried and true m.unit V.2 after undergoing significant development and improvements.
In conjunction with the m.ride App you can manage the entire menu setup and alarm system via smart phone. Fault diagnostics can also be performed during operation and without having to remove the m.unit blue. The secure, encrypted Keyless Go function, when activated, turns on the vehicle's on-board electrical system when approaching the bike with your smart phone.
The m.Unit Blue can be used with or without the Bluetooth function, and will be available in the US in June 2017. MSRP $359.00
The m.ride App will be available for Android (version 6.0 and up) in June and for iOS (iPhone 5 and up) shortly thereafter.