Yamaha YZF-R6 Rennsport Non ABS Brake Line Kit
in Spiegler
Yamaha YZF-R6 Rennsport Non ABS Brake Line Kit
in Spiegler
Part #:S-YA0316
Project Difficulty:1/5
Country of Manufacture: United States
Make: Yamaha
Year: 2020, 2019, 2018, 2017
Model: YZF-R6
Remarks: Rennsport 3 line - Non ABS
Position: Front
Number of Lines: 3
Material Type: Stainless steel braided brake line
Brake Line Color: Black, Blue, Clear, Green, Orange, Pink, Red, Smoke, Translucent Blue, Translucent Red, Vintage Black, White, Yellow
Brake Line Fitting Color: Black, Blue, Chrome, Gold, Green, Purple, Red, Silver, Titanium
Line Kit Type: Rennsport Kit
Line Information: All line kits come with everything you need for a direct replacement. If your kit does not list the banjo bolts included and you would like to add some to your order, please view our Brake Line Accessories page. If it does not say in the product specification 'ABS', than the line kit is not for an ABS model. All of our line kits are made to US-model specifications. If you have a non US model bike it is your responsibility to insure fitment.
Stainless Steel Braided, 2017-, 3 Lines, Non ABS Front
authorized distributor

Guaranteed Fit.
Our products are curated by our experts.
We're Happy to Help!
Call our experts: 937-291-1735
Easy Returns.
We are ready to assist you promptly.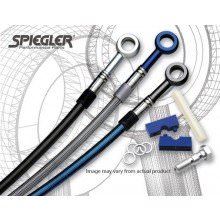 Brake Line Color Selection

The color of the line material and fittings can vary due to different lighting conditions.
Stainless steel braided brake line kit. 3 way Rennsport Kit, Includes 3 single banjo bolts in matching fitting color. This kit is for NON ABS and RACING ONLY!
The new Rennsport line kits by Spiegler are more than just another stainless steel brake line kit. The Rennsport kit is not only designed to improve the performance over the stock components, but also incorporates years of motorcycle road racing knowledge. It is designed for the racer or track day enthusiast; modifications may be required for street applications.
The Rennsport kit is designed to help eliminate clutter up by the master cylinder by having only one fitting and line routing up past the ram air ducts, fairing stay, lap timers, or whatever else you feel the need to install up at the front of your motorcycle. The Rennsport kit routes the brake lines around the front of the fork tubes and with that increased length reduces the binding caused during front fork travel and increases front fork performance on the track. The "RSC" model Rennsport was tailor made for those individuals that have the Ohlins extended fork caps, with the extended caps you will be able to push your forks even farther through the top triple clamps for increased trail and stability which results in more mid-corner speed.
Rennsport kits are made from the same high quality components that Spiegler has become known for and as an added bonus the kit will also come with all required banjo bolts matching the fitting color for your application. The decision to pick up a Rennsport kit for your bike couldn't be clearer, unless you cannot decide on one of your 130 different color combinations.